Developing Business Leaders for Generations of Family Success
Family business stakeholders and leaders are increasingly turning to coaching to help them move beyond the variety of challenges they face and transform situations into opportunities for success.
Coaching can increase clarity, strengthen alignment and bring greater satisfaction by executing realistic, actionable plans. Coaching enables the creation of real-time, tailored solutions that are focused on the unique needs and environment of each participant. It provides a variety of goal-driven interactions that may include off-site strategy planning sessions and on-site presentations or observations.
Continuity's family business coaches have helped business leaders and family members reach new levels of success – and personal satisfaction – in their work and in their lives. Our coaches help individuals take the skills they already have, develop new skills, and with a deep understanding of family dynamics, learn to truly excel at family leadership.
Assessing the Potential of Employees and the Human Capital of the Business
Family members often serve in a variety of operational roles within a family business beyond the senior leadership. Reviewing the performance of family employees is a sensitive process that can be uncomfortable for all parties involved. It is a far different undertaking than with non-family employees.
Less than candid reviews rob the employee of valuable feedback that could significantly influence his or her success in the business, their ability to improve their skills, and their personal and career aspirations.
Building Effective Family Business Leadership
Through assessments, meetings and ongoing support, our coaches work with individuals and teams on any number of areas, including:
Communication
Financial Literacy
Leadership
Career Development
Negotiation
Job Skills
Life Skills
Education
Accountability
Public Speaking
Executive Persona
Health and Well-being
Self Knowledge
Empathy
Meeting Facilitation
Continuity's Relative Review 360
Relative Review 360 is a customizable and anonymous web-based tool that is designed specifically for family members employed in their family businesses.
Relative Review 360 enables a cluster of 6-12 family business employees to review the subject employee with complete candor, afforded by the comfort of anonymity and a process designed to improve future performance rather than criticize the past.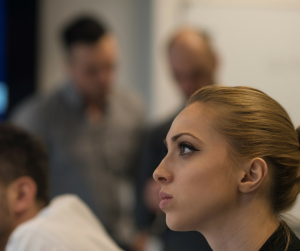 Relevant and insightful assessments of the family employee cover these categories:
Job Performance
Entrepreneurial Drive
Communication Skills
Entitlement Behavior
Cultural Fit
The review takes less than 30 minutes for each respondent to complete. Individual responses are not shared with anyone. Continuity facilitates the review process and provides only a summary report to the subject of the review, the company's head of HR, the subject's manager, and the senior family member(s) of the business. The summary report preserves the anonymity of the respondents by cleansing the report of any commentary that could be interpreted or linked to a reviewer.
Relative Review 360 supports a more positive and constructive review experience. It is also efficient. The results help improve the alignment of the goals of the business with the desired career path of family employees. It helps open up the pathway to greater satisfaction and fulfillment for everyone as well as improved workplace performance and strengthened family bonds.
Supporting the Particular Needs of Rising Generation Leaders
All family business leaders bring to their responsibilities the influence of their education and training as well as life and work experience. The rising generation leaders of enterprising families today are introducing significant innovations to the traditional approaches of running the business. An effective leadership development program will factor in their perspective on the world. Continuity guides and supports rising gen family leaders in their ability to master a range of essential leadership competencies.
Continuity's Team of Leadership Coaches includes

:

Rikk Larsen
Ed Evarts
Laurie Margolies
William Winn
Meta Greenberg
---
Click here
to meet the entire Continuity team.