CONTINUITY is a leading family business consulting firm that develops comprehensive strategies for enterprising families, so they can thrive together as owners, managers and family members through succeeding generations.
We serve clients throughout the United States and internationally.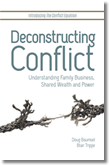 Deconstructing Conflict: Understanding Family Business, Shared Wealth and Power
"The ability of stakeholders to manage conflict is the single most important challenge for any family that works or owns together."  – Eric Allyn, Welch Allyn, Inc

This book has become an indispensable guide for family business systems. Order yours today!
Save
Save
Save
Continuity Family Business Consulting (ContinuityFBC) is a specialized team of family business consultants and family business advisors who combine expertise in business and family systems with a deep understanding of the type of conflict affecting enterprising families. We produce actionable plans that enable family members to effectively implement transitions and new structures in a timely manner.